BIRDS - PUFFINS
Today I'm showing you a card we received the other day on the RSPB reserve near Dumfries, from one of our colleagues. It's nice because it has the St Kilda puffin cachet on it. St Kilda is a group of islands to the northwest of Scotland. It was inhabited until the 1930s and subsequently used by the Army and now it belongs to the National Trust for Scotland. It is a very important area as far as birds is concerned.
Usually, mail with that cachet on is rather philatelic, but this is a properly run non-philatelic item, which is a plus, I would say.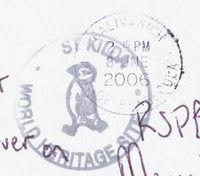 The card is cancelled in Balivanich on the Isle of Benbecula. I'm not sure yet what route the card has taken as I haven't spoken to the sender yet, but either all St. Kilda mail is handled via the Isle of Benbecula or this card was posted there (sender stays on North Uist, which is just above Benbecula and I presume all mail from North Uist is handled via Benbecula as that has a little airport so I suppose all mail is flown from there to the mainland of Scotland).
I think the latter is the more obvious route for it would make more sense to either fly all St Kilda mail directly from there to mainland Scotland or else to go via Skye which is larger and closer to Kilda than Benbecula and has a mainland connection (that infamous bridge) with the rest of Scotland. Question then remains: how did the cachet get on there? Better make a phonecall and find out!
:-)
Adrian