In the early 1900s, the Dutch were in the grip of tuberculosis (TB). Many societies were founded to try and combat this plague. After Denmark started to issue Julen stamps (without postal value) with a portrait of their late queen, with moneys raised to go to similar societies, this idea was floated in the Netherlands as well.
Here in the Netherlands, Queen Emma was very much involved with this type of work, probably because she had lost her sister to TB. The general idea was to issue stamps with her portrait when an heir to the throne would be born. However, this did not happen for quite a while so the Rotterdam Society for the Prevention of Tuberculosis produced this label (without postal value) which one could buy for 2 cts (proceeds to go to the Society) and stick on one's envelopes. The label was issued in 1906.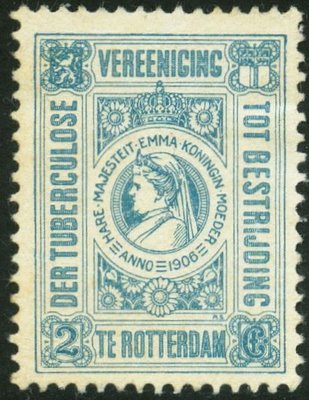 The Amsterdam Society got one up on Rotterdam for their Society was to be represented on a set of postage stamps, a charity issue (though no mention is made of any surcharge on the actual stamps) issued in December 1906. This was the very first non-definitive issue from the Netherlands.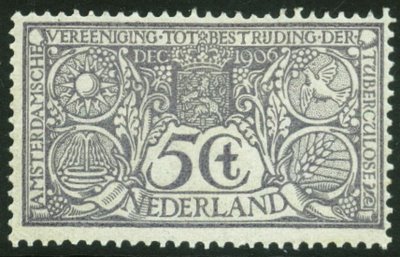 These stamps were only sold from the Amsterdam (sub) post offices. They were for sale for a very limited period, and the remainder was destroyed with the large circular cancel "AMSTERDAM 31 JAN 07, 10-12N". These stamps were bought by philatelic dealers so these are the ones you see most often.
However, don't be fooled into paying too much for them! A used set of three with this cancel is worth at the most some 5 pounds (say 7 euros). After all, some 2,220,000 stamps were cancelled this way! A properly (id est postally) used set would set you back some 50 pounds (70 euros)! Here I show you a stamp cancelled on the first day of issue, 21 December 1906.
The stamps could be ordered as well, which is why cancels from places other than Amsterdam are found, though relatively scarce.
Adrian